DAHUA IPC-HDW5442TM-AS-LED - DAHUA DH-IPC-HDW5442TM-AS-LED 4MP WDR Eyeball AI Network Camera with 1/1.8" 4Megapixel progressive scan CMOS IPC-HDW5442TM-AS-LED
SKU
BVIPC-HDW5442TM-AS-LED
IPC-HDW5442TM-AS-LED
4MP WDR Eyeball AI Network Camera
> 1/1.8" 4Megapixel progressive scan CMOS
> H.265&H.264 triple-stream encoding
> 25/30fps@2688×1520 
> WDR(120dB), Day/Night(Electronic), 3D DNR, AWB, AGC, BLC
> Multiple network monitoring: Web viewer, CMS(DSS/PSS) & DMSS
> 2.8mm fixed lens (3.6mm, 6mm optional)
> Max. LEDs Length 17m
> Micro SD memory, IP67
>without Logo,English firmware
>100% original products manufactured by DAHUA

The delivery time is 25 working days .
Because the product always maintains a fast inventory flow, the model you ordered may take longer to produce (about 3 weeks or more days)

, we will push the factory and try our best to ship to you as soon as possible, thank you for your waiting.
DAHUA IPC-HDW5442TM-AS-LED - DAHUA DH-IPC-HDW5442TM-AS-LED 4MP WDR Eyeball AI Network Camera with 1/1.8" 4Megapixel progressive scan CMOS IPC-HDW5442TM-AS-LED



IPC-HDW5442TM-AS-LED/ DH-IPC-HDW5442TM-AS-LED
4MP WDR Eyeball AI Network Camera
> 1/1.8" 4Megapixel progressive scan CMOS
> H.265&H.264 triple-stream encoding
> 25/30fps@2688×1520 
> WDR(120dB), Day/Night(Electronic), 3D DNR, AWB, AGC, BLC
> Multiple network monitoring: Web viewer, CMS(DSS/PSS) & DMSS
> 2.8mm fixed lens (3.6mm, 6mm optional)
> Max. LEDs Length 17m
> Micro SD memory, IP67
>,English firmware
>100% original products manufactured by DAHUA

Dahua AI series products adopt the most advanced AI technologies, including deep learning algorithms that primarily target people and vehicles, which provides higher flexibility and accuracy for end-users. This enables the Dahua AI series to offer various advanced applications such as Face Recognition,ANPR, Metadata, People Counting, traffic data statistics, etc.The complete lineup of Dahua AI includes network (PTZ) cameras, network video recorders, servers, and platform management products. Beyond seeing the world, the power of AI allows devices to perceive the environment and understand the world in a better way.
System Overview
Pro AI series contains Face Capture, Perimeter Protection and People Counting functions.Powered by deep-learning Artificial Intelligence algorithms, significantly improved accuracy. Meanwhile, the series features starlight and smart IR technology. This series fully protected from dust and water, certified to IP67 standard.
Functions
Perimeter Protection
Dahua's Perimeter Protection functions significantly improved accuracy. Perimeter Protection reduces false alarms and decreases pixel count requirements for object detection. Perimeter Protection features custom tripwires based on object type for automation in limited access areas such as pedestrian or vehicle-only zones. This combination of advanced AI analytics and real-time alerts to a desktop or to a mobile client reduces system requirements and resources resulting in greater surveillance system efficiency.
People Counting
People Counting function uses advanced image processing technology to capture depth information from within images. The camera pairs this information with deep learning algorithms to analyze and detect human bodies and track target objects in real time. The camera provides statistics for separate individuals' entrance and exit with up to 95% counting accuracy.

Full-color Starlight
The camera adopts F1.6 large aperture lens and 1/2.8" high performance sensor. With higher amount of absorbed light and advanced image processing algorithm, the camera presents an impressive lowlight performance with an exceptional balance between noise reduction and the blur of moving object.
Warm Supplemental lights
With two warm supplemental LED lights, the camera is able to provide a colorful and vivid image even in total darkness. It also provides visible By default, the camera is set to smart light mode, in which the camera can automatically adjust the exposure time and light sensitivity simultaneously to avoid overexposureing of the objects in the image center. Also, the sensitivity and intensity of the LED lights can be remotely controlled by OSD menu.
Protection(IP67, wide voltage)
The camera allows for ±30% input voltage tolerance, suitable for the most unstable conditions for outdoor applications. Its 6KV lightning rating provides effective protection for both the camera and its structure against lightning. Subjected and certified to rigorous dust and immersion tests (IP67) , the camera is the choice for installation in even the most unforgiving environments.

>,English firmware
>
100% original products manufactured by DAHUA
- See more at: http://www.cctv-mall.com/dahua-ipc-hfw81200e-z-dahua-ipc-hfw81200e-z-4k-ultra-hd-12-megapixel-ultra-hd-network-bullet-camera-with-4-1mm-16-4mm-motorized-lens-and-poe-ip67#sthash.PYy4AcYd.dpuf
DAHUA IPC-HDW5442TM-AS-LED - DAHUA DH-IPC-HDW5442TM-AS-LED 4MP WDR Eyeball AI Network Camera with 1/1.8" 4Megapixel progressive scan CMOS IPC-HDW5442TM-AS-LED Picture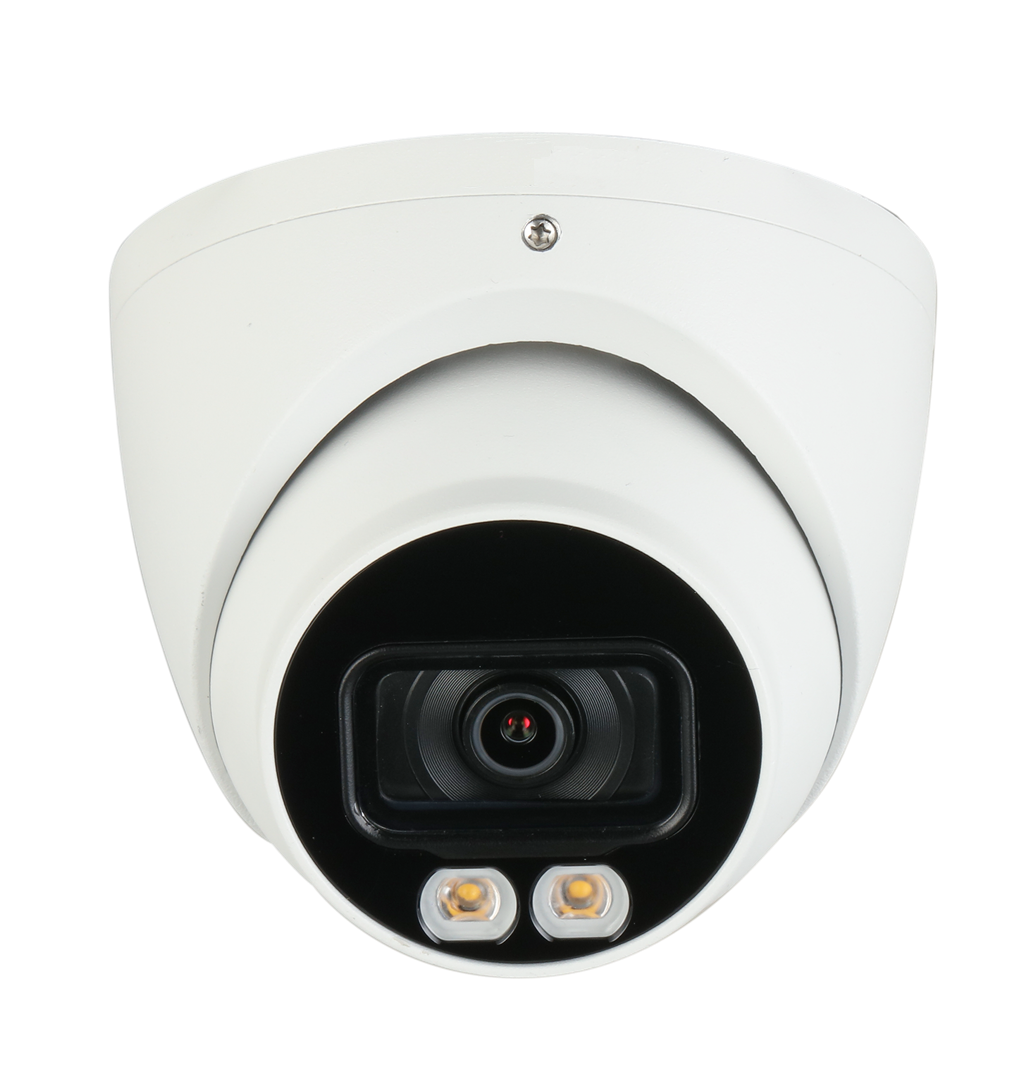 DH-IPC-HFW83A1EN-Z5 3MP Starlight IR Vari-focal Bul
 DAHUA IPC-HDW5442TM-AS-LED - DAHUA DH-IPC-HDW5442TM-AS-LED 4MP WDR Eyeball AI Network Camera with 1/1.8" 4Megapixel progressive scan CMOS IPC-HDW5442TM-AS-LED Dimension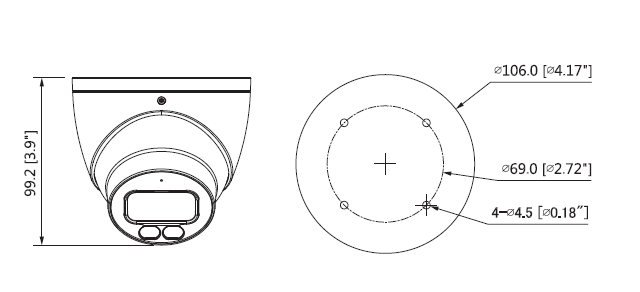 >,English firmware
>
100% original products manufactured by DAHUA
- See more at: http://www.cctv-mall.com/dahua-ipc-hfw81200e-z-dahua-ipc-hfw81200e-z-4k-ultra-hd-12-megapixel-ultra-hd-network-bullet-camera-with-4-1mm-16-4mm-motorized-lens-and-poe-ip67#sthash.PYy4AcYd.dpufIPC-HFW8331E-Z 
DAHUA
IPC-HFW8331E-Z 3Megapixel Full HD WDR Smart Network Motorized IR Camera 
Application
DAHUA IPC-HFW8331E-Z - DAHUA IPC-HFW8331E-Z 3Megapixel Full HD WDR Smart Network Motorized IR Camera


 DAHUA IPC-HDW5442TM-AS-LED - DAHUA DH-IPC-HDW5442TM-AS-LED 4MP WDR Eyeball AI Network Camera with 1/1.8" 4Megapixel progressive scan CMOS IPC-HDW5442TM-AS-LED Installation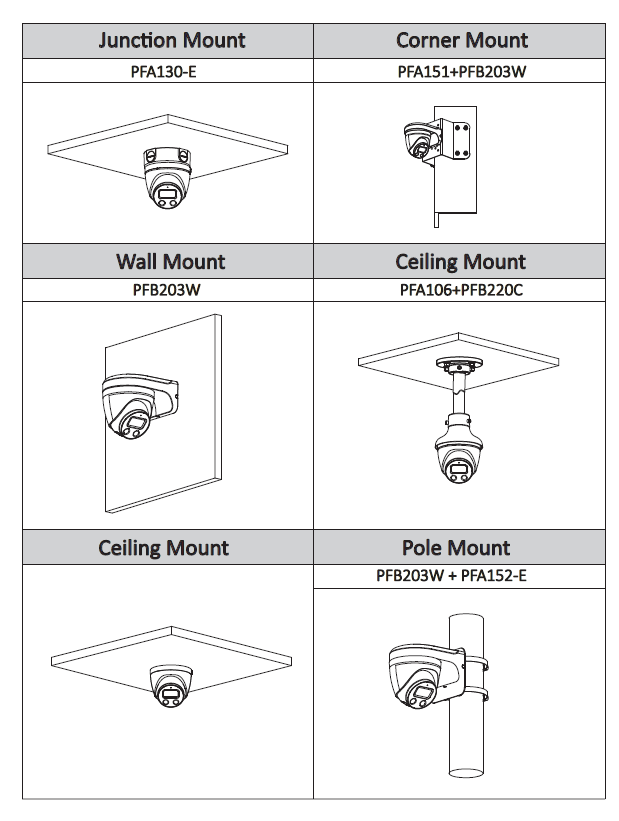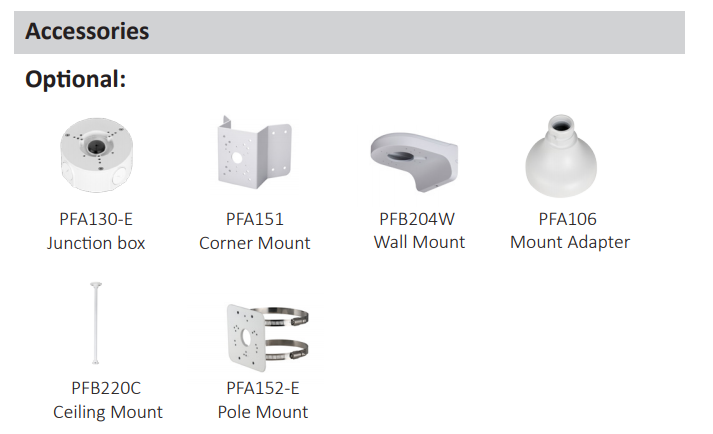 DAHUA IPC-HDW5442TM-AS-LED - DAHUA DH-IPC-HDW5442TM-AS-LED 4MP WDR Eyeball AI Network Camera with 1/1.8" 4Megapixel progressive scan CMOS IPC-HDW5442TM-AS-LED Specifications
DH-IPC-HFW83A1EN-Z 3MP Starlight IR Vari-focal Bullet Network Camera Specifications
Technical Specifications
 ****
Camera

Image Sensor

1/1.8" 4Megapixel progressive scan CMOS

Effective Pixels

2688 (H) × 1520 (V)

RAM/ROM

512 MB/128 MB

Scanning System

Progressive

Electronic Shutter Speed

Auto/Manual, 1/3 s–1/100000 s

Minimum Illumination

0.002 Lux@F1.6

LED Distance

Distance up to 20 m (66 ft)

LED On/Off Control

Auto/Manual

LEDs

2

Lens

Lens Type

Fixed-focal

Mount Type

Board-in

Focal Length

2.8 mm, 3.6 mm, 6.0 mm

Max. Aperture

F1.6

Angle of View

H: 113°, V: 60°/H: 89°, V: 48°/H: 56°, V: 31°

Aperture Type

Fixed

Close Focus Distance

1.3 m (4.27 ft)/1.9 m (6.23 ft)/3.8 m(12.47 ft)

DORI Distance

Lens

Detect

Observe

Recognize

Identify

2.8mm

58m(192ft)

23m(75ft)

12m(39ft)

6m(20ft)

3.6mm

72m(236ft)

29m(95ft)

14m(46ft)

7m(23ft)

6.0mm

113m(371ft)

45m(148ft)

23m(75ft)

11m(36ft)

Pan/Tilt/Rotation

Pan/Tilt/Rotation Range

Pan: 0˚–360˚; Tilt: 0˚–78˚; Rotation: 0˚–360˚

Artificial Intelligence

Face Detection

Support face image capture

Perimeter Protection

Tripwire, intrusion (Recognition of vehicle and people), fast moving, loitering detection, parking detection and people gathering

People Counting

Support Line crossing/Region/Queueing people counting; Support 4 accesses independent detection, 4 areas independent detection

General Intelligence

Event Trigger

Motion detection, Video tampering , Scene changing, Network disconnection , IP address conflict, Illegal Access, Storage anomaly

General Intelligence

Object Abandoned/Missing

Heat Map

Yes

Video

Compression

H.265,H.264,H.264B,H.264H,

MJPEG (sub stream)

Smart Codec

Yes

Streaming Capability

3 Streams
Resolution

2688 × 1520/2560 × 1440/2304 × 1296/1080P (1920 × 1080)/1.3M (1280 × 960)/720P (1280 × 720)/D1 (704 × 576/704 × 480)/VGA (640 × 480)/CIF (352 × 288/352 × 240)

Frame Rate

Main Stream: 2688 × 1520 (1 fps–25/30 fps)

2560 × 1440 (1 fps–25/30 fps)

1920 × 1080 (1 fps–50/60 fps)

Sub Stream: D1 (1 fps–25/30 fps)

D1 (1 fps–50/60 fps)

Third Stream: 1080P (1 fps–16 fps)

Bit Rate Control

CBR/VBR

Bit Rate

H.264: 32 Kbps–8192 Kbps

H.265: 19 Kbps–8192 Kbps

Day/Night

Day/Night: Electronic

Auto/Color/B/W

BLC Mode

BLC/HLC/WDR (140 dB)

White Balance

Auto/Natural/Street Lamp/Outdoor/Manual

Gain Control

Auto/Manual

Noise Reduction

3D DNR

Motion Detection

Off/On (4 Zone, Rectangle)

Region of Interest

Off/On (4 Zone)

Electronic Image Stabilization (EIS)

N/A

Smart IR

Yes

Defog

Yes

Flip

0°/90°/180°/270°

Mirror

Off/On

Privacy Masking

Off/On (4 Area, Rectangle)

Audio

Compression

G.711a, G.711Mu, G.726, AAC, G.723

Network

Ethernet

RJ-45 (10/100 Base-T)

Protocol

IPv4;IPv6;HTTP;HTTPS;TCP;UDP;ARP;RTP;RTSP;RTCP;RTMP;SMTP;FTP;SFTP;DHCP;DNS;DDNS;QoS;UPnP;NTP;Multicast;ICMP;IGMP;NFS;PPPoE;802.1x;SNMP

Interoperability

ONVIF (Profile S/Profile G/Profile T), CGI, Milstone, Genetec, P2P

Streaming Method

Unicast/Multicast

Max. User Access

20 Users

Edge Storage

NAS;FTP;SFTP

Micro SD card 256 GB

Web Viewer

IE (versions newer than IE8), Chrome,

Firefox, Safari (versions newer than Safari 12)

Management Software

Smart PSS, DSS, DMSS

Smart Phone

iOS, Android

Certifications

Certifications

CE-LVD: EN60950-1

CE-EMC: Electromagnetic Compatibility Directive 2014/30/EU

FCC: 47 CFR FCC Part 15, Subpart B

UL/CUL: UL60950-1 CAN/CSA C22.2 No.60950-1-07

Interface

Audio Interface

Built-in MIC
RS485

N/A

Alarm

N/A

Electrical

Power Supply

DC 12V (±30%), PoE (802.3af) (Class 0)

Power Consumption

<7.2W

Environmental

Operating Conditions

-30° C to +60° C (-22° F to +140° F)/Less than 95% RH

Storage Conditions

-30° C to +60° C (-22° F to +140° F)

Ingress Protection

IP67

Construction

Casing

Metal

Dimensions

Φ106 mm × 99.2 mm (4.17" × 3.91")

Net Weight

0.55 kg (1.21 lb)

Gross Weight

0.71 kg (1.57 lb)
**********
***
**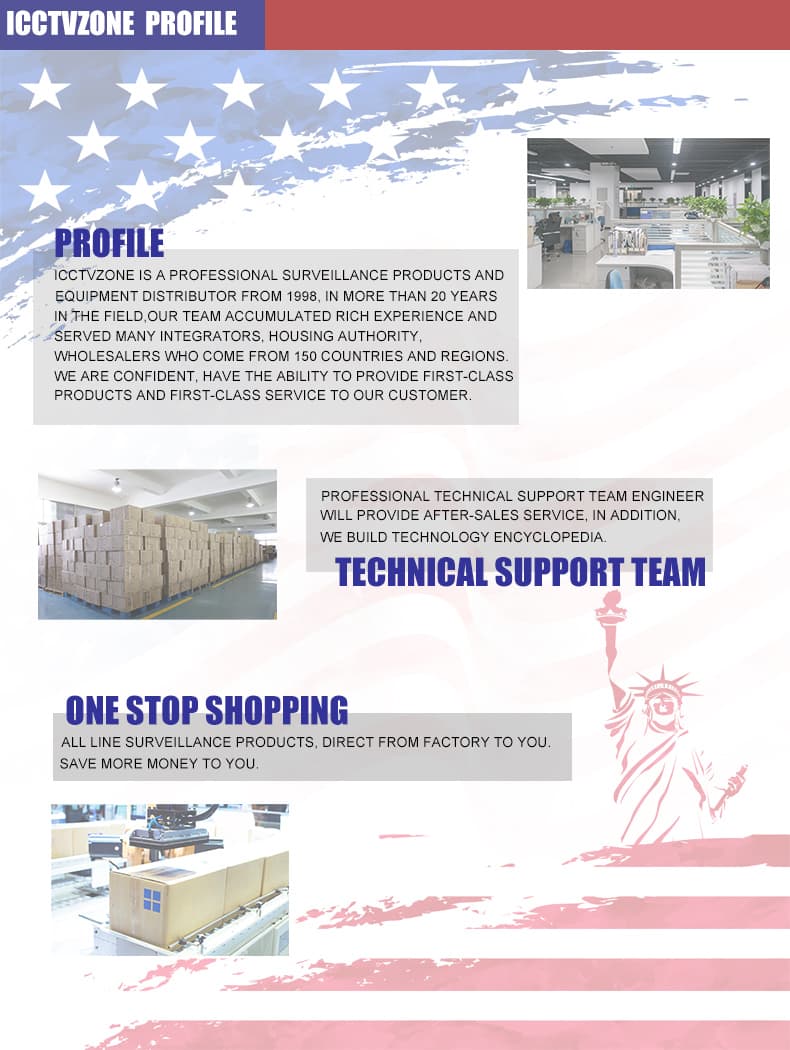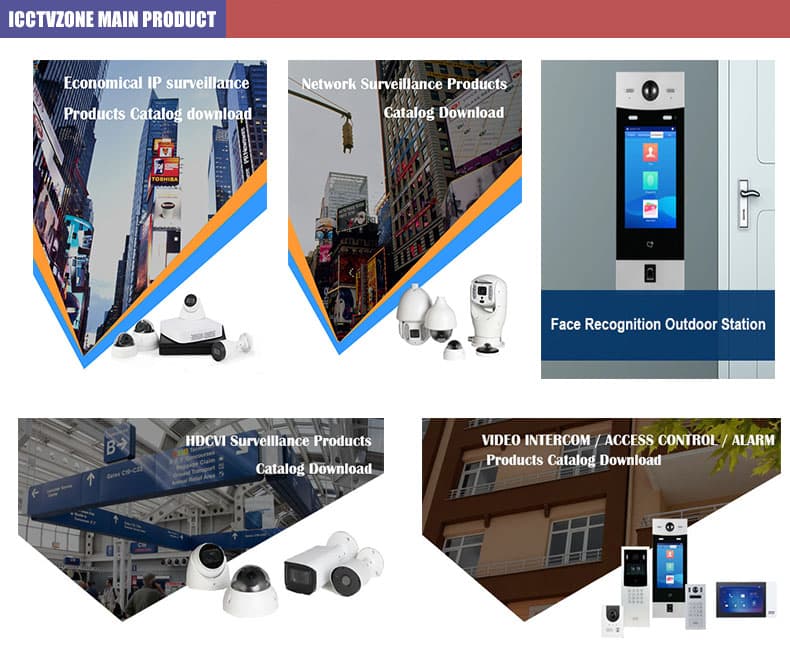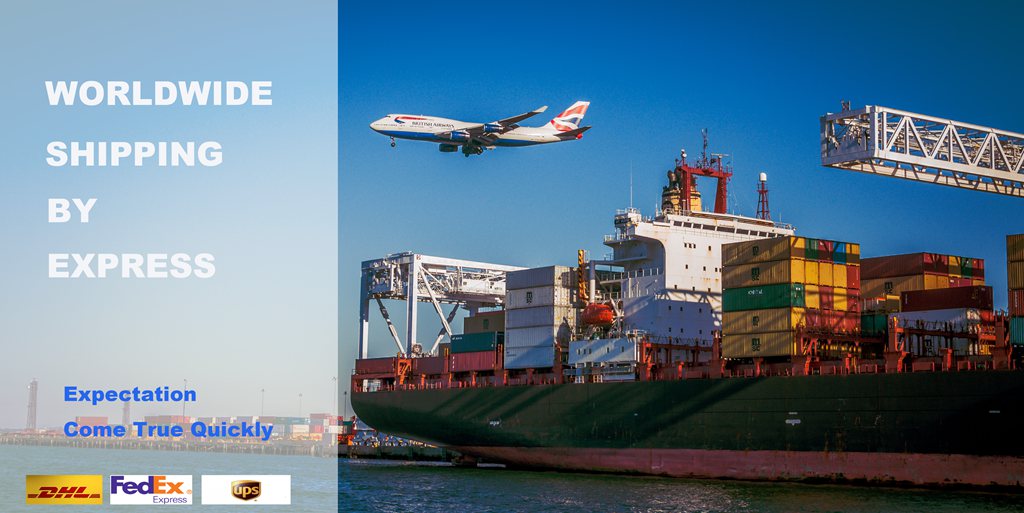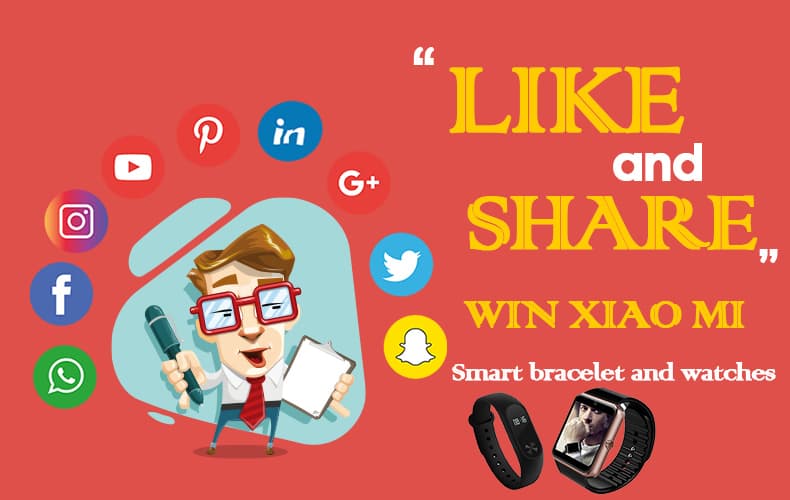 *******
******IPC-HDW5442TM-AS-LED,DH-IPC-HDW5442TM-AS-LED,dahua,N45EJ62,DH-IPC-HDW5442TMP-AS-LED,DH-IPC-HDW5442TMN-AS-LED,motorized lens,cctv color camera,hikvision colorvu********
Save
Save
Save
More Information

| | |
| --- | --- |
| Wired/Wireless | Wired |
| Outdoor use | Intdoor use, Outdoor use |
| Focal Type | Motorized Zoom, Vari-Focal |
| Day/Night | D/N IR, Day/Night, Low light |
| Factor | Bullet |
| Max Resolution | 4 MP |
| | |
| --- | --- |
| Brand | Description |
| History | Color sit amet, consectetur adipiscing elit. In gravida pellentesque ligula, vel eleifend turpis blandit vel. Nam quis lorem ut mi mattis ullamcorper ac quis dui. Vestibulum et scelerisque ante, eu sodales mi. Nunc tincidunt tempus varius. Integer ante dolor, suscipit non faucibus a, scelerisque vitae sapien. |